Action Item of the Week
–
Ash Wednesday Is Almost Here; Prep for Lent with Us!
When we are confirmed, the Holy Spirit bestows upon us the gifts of wisdom, understanding, knowledge, counsel, fortitude, piety, and fear of the Lord. These seven gifts help us as we strive to strengthen our relationship with Him.
To help us reflect on these gifts, the Culture of Life Studies Program has created a Lenten reflection booklet that focuses on these gifts of the Holy Spirit.
Each day's entry includes a Bible verse, a reflection, and a short biography of a saint who lived the meaning of that gift. We follow that with suggestions for how you and your family can use this saint's example to build a culture of life in your own home or community.
Join us this Lent as we grow in faith and strengthen our families! The Lenten reflection booklet is linked here.
---
Week in Review

– STOPP Report Details True Horror of Abortion Pills

This week's Wednesday STOPP Report details the graphic true horror of abortion pills. The following article titled, Natalia's Agony: A Pack of Pills with a Pack of Lies, was released exclusively to STOPP members and associates.

The 20-year-old mother laments, "I remember somehow getting to the toilet, it was unbearable the pain, and that's when I passed my baby. I looked down and saw him. It wasn't like a heavy period, it was like a baby. I must have flushed it down the toilet, and I remember just falling to my knees. . . . It's not just a group of cells, it's a baby. It's not what they tell you it is."

Natalia had initially wanted to "get rid of" her child when she found out she was pregnant, but she was hesitant. The longer she waited the more attached she got to her baby. Neither her friends nor her baby's father was supportive of her parenting. She held onto the pills she was given to take at home for three weeks, hoping the entire time that someone would try to talk her out of it—or that her baby's father or her friends would see what distress she was in and support her in parenting.

The staff at the place where she got the pills had seen her three times, and she was too emotionally upset all three times to take the pills, so they sent her home to take them "where she would be more comfortable." No one ever stepped forward with even a word of encouragement to support her in bringing her child to term. Eventually, the friends dissolved the pills that she could not swallow, and she drank the poison that killed her baby. She says it was fear that eventually convinced her to do it. Afterward, she lay in bed alone for three days "bleeding through the mattress" and not wanting to move.

"I just wish I knew everything back then that I know now," she says after drying her tears. "I would tell that poor girl [myself] to leave . . . straightaway."

Natalia's heartbreaking story appears on a March for Life UK video. Scores of similar tragic stories appear around the Internet. There is a move in some circles to deny that women are victims of abortion. The truth is that many, many times these young women are completely victimized by the people who should be supporting them amid the fear that media, friends, and others with influence have stirred up in them. Fear that a baby will ruin their lives. Fear that the child will destroy a relationship. Fear that they are too young to parent. So much fear, so little support. And the abortion pill regimen—given to them to take home where they can be "more comfortable"—results in pools of blood in which they lie after the trauma of delivering their baby whom, in many instances, they wanted with all their heart. It's incredibly heartless and sad to claim that these women are not victimized, bullied, and forced into abortions they do not want. And the do-it-at-home regimen of pills makes it 100% easier and more convenient to victimize and abuse girls and women.

Today, more than half of all abortions are committed via the pill regimen—a regimen described as being like a heavy period with cramping, when, indeed, women like Natalia describe the experience as similar to being stabbed in the stomach. That kind of trauma is not something that a person ever "gets over." The loss of the child and his progeny is beyond calculation.

In 2021, Planned Parenthood operated 55% of all US abortion facilities. It operated 83% of all abortion facilities that commit pill-only abortions. STOPP's recent research shows that Planned Parenthood's profit margin on pill abortions is exorbitant. For example, mifepristone (Mifeprex) is currently available for retail purchase at both CVS and Target pharmacies for $33.47 through a GoodRX discount. Misoprostol—the second medication used in tandem with Mifeprex to finish the abortion—is available to the public at Walmart and Walgreens for under $3 for two pills via a GoodRX discount. (Misoprostol is said to be 85% effective in causing abortions during the first 12 weeks of pregnancy on its own, even without the use of mifepristone.)

Planned Parenthood says it charges around $580 for the pill abortion but that it can go as high as $800! With numbers like that at play, it is easy to see why Planned Parenthood and other abortionists continue shifting their abortion business toward the pill regimen with all their might. When it comes to Planned Parenthood, follow the money trail—the one littered with dead babies and brokenhearted moms.
---
This week, Hugh Brown was guest on Relevant Radio's show, Trending with Timmerie. Hugh was featured on the show's "Marriage Hour."
After releasing comments last week following Vermont's PP Action Fund remarks on removing the term "women" from its medical terminology, Hugh Brown interviewed on the shows From the Median and Driving Home the Faith. He provided additional comments for an article by America Family News.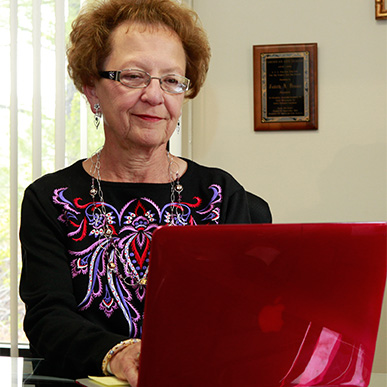 Twice a week, Judie's commentaries are distributed to an expansive media list. The list contains over 100 media outlets, such as Fox News, The Federalist, Breitbart, and The Daily Caller, among others. Judie's commentaries are each featured on the front page of ALL.org. Each commentary is also featured as a part of Judie's recurring column on Renew America.
---
Pro-Life Social Media
–
'Disgrace,' Democrats Replace US Flag Pin with 'Abortion'
Our critics hate being called "pro-abortion" because, as they put it, "No one is pro-abortion." Except Democrats, who put their love of preborn child-killing on full display this week when they sported pins that literally said "abortion."
Democrats wearing abortion pins tonight instead of the American flag: pic.twitter.com/Mgauv4THyk

— End Wokeness (@EndWokeness) February 8, 2023
It seems "pro-choice" is on its way out because not using the "a" word suggests there's some kind of stigma attached to it. It's an attempt to render the word so common that it scandalizes no one. This is why it is suggested we use the word less and preborn child-killing more.
There's something really creepy about people wearing pins so specifically in support of "abortion", as opposed to being in support of "Women's Health" or any of the other 100 euphemisms they usually use in place of the ugly 'A' word.

— Anti-Abortion Atheist (@RonCole80482262) February 8, 2023
Im not even surprised one bit. What a disgrace.

— Proud Elephant 🇺🇸🦅 (@ProudElephantUS) February 8, 2023
What does the heart represent the ones they stop every time an abortion is performed?

— ❤️Sarah May❤️ (@SarahPr71608039) February 8, 2023
Sick. Why do they love killing babies so much?

— Tired mommy (@supertiredmom1) February 8, 2023
I notice that every person wearing the murder pins are alive & enjoying a life that they deny to others. I can't imagine being so heartless.

— Sadie Taylor (@JeanHar28691144) February 8, 2023
I say the word, I wear the word.

Abortion care is health care.

Abortion care saves lives. pic.twitter.com/rGO1kcIDBo

— Congresswoman Madeleine Dean (@RepDean) February 7, 2023
Every abortion stops a beating heart. Pretty ghoulish to support violence in the womb.

— Mollie (@MZHemingway) February 8, 2023
Arson is home remodeling

— Chip Formica (@chipformica) February 8, 2023