In This Issue
Expect an Explosion in Uncounted Abortions Nationwide as FDA Allows Retail Pharmacy Sales of Abortion Pill, Drops Requirement for In-Person Dispensing
FDA Cancels the Long-Held Truth about Plan B, the Morning After Pill
Remembering Our Founder Jim Sedlak
See You at the March for Life!
Expect an Explosion in Uncounted Abortions Nationwide as FDA Allows Retail Pharmacy Sales of Abortion Pill, Drops Requirement for In-Person Dispensing
By Rita Diller
Planned Parenthood Federation of America head Alexis McGill Johnson was among the first to announce a major victory this week after the posting of revised FDA regulations that allow abortion pill sales by retail pharmacies. She was joined by Nancy Northup, head of the Center for Reproductive Rights, in applauding the FDA move. "Now, people in states where abortion is legal will be able to get medication abortion with a prescription through their local pharmacy or by mail—just like they can for other equally safe medications," Northup said.
STOPP reported in December that GoodRX has been advertising abortion pill availability and pricing—even special sale prices—for some time. Now the FDA has made it official that retail pharmacies in the US can apply for certification to sell mifepristone directly to pregnant women to kill babies up to 10 weeks gestational age. 
The British Medical Journal maintains that the retail purchases will be available across the US—even in states that ban or severely restrict abortion. On the other hand, Texas Right to Life says that due to the laws in place in Texas, Texas pharmacies will not be impacted by the rule change, saying the Texas law "can be a rubric for other pro-life states moving forward."
The differences of opinion in what the regulations and other laws allow and require underscores the confusion, misinformation, and chaos that surround the legality and explosion of hidden abortion in our post-Roe nation. 
Currently, 12 states have laws intended to ban or highly restrict abortion in the US, while surrounding states are facilitating abortion expansion nationwide with abortionists moving to state borderlines and/or utilizing what Planned Parenthood has dubbed teleMAB—telemedicine for medication abortion.
Planned Parenthood's website carries a "fact sheet" that describes teleMAB abortion as site-to-site medication abortion via teleconferencing and abortion pill delivery. It states: "A clinician who can provide medication abortion from one health center connects to patients in another health center [that cannot provide medication abortion] via a secure videoconferencing platform. This service delivery model makes it possible for patients to get the care they need without the time and expense of traveling long distances for an in-person clinician visit. It can also help health centers provide care to patients when a clinician cannot be physically present regularly due to staffing shortages or other circumstances." PP further reports: "In a study published in Contraception, Planned Parenthood, Ibis Reproductive Health, and ANSIRH found that teleMAB led to an increase of medication abortions in two states studied — Montana and Nevada." 
Planned Parenthood abortions in Nevada, in fact, increased a whopping 59% in the year following the introduction of teleMAB abortion, a growth attributed by Planned Parenthood to the increased availability of abortion. The PP info concludes, "Future research will explore ways to expand teleMAB to additional health centers and address the public policies that restrict providers and health centers from offering teleMAB." 
In light of this information and all that we know about do-it-yourself abortion, it is a given that the current laxity in the FDA regulations, including the absence of an in-person exam and the dispensing requirement, will result in an explosion of abortions nationwide. Hundreds of thousands of lifeless little bodies will go uncounted since the abortion process can be divorced entirely from the clinical setting. 
Truly, only God knows how many will die. He treasures every human life. He calls us to treasure each life as well and to advocate for those who are being sacrificed on the demonic altar of abortion. We are called to be 100% pro-life. 
We implore all pro-life advocates to look around and consider what is happening today. The culture of death is in a feeding frenzy beyond compare. It is just getting warmed up. The new year 2023 with no Roe is the year when the FDA enshrined the explosive expansion of the baby-killing pill. The death mongers won't stop until they have state and national legislation enshrining abortion at every stage of human embryonic and fetal development. It is their end game. What is ours? It must be total protection for all preborn children!
FDA Cancels the Long-Held Truth about Plan B, the Morning After Pill
In another Planned-Parenthood-pleasing move, the FDA has once again picked up its poisonous pen at the request of the drug manufacturer, stating outright that Plan B, also known as "the morning after pill," does not cause abortion.
Since 2013, levonorgestrel, known as Plan B One-Step, has been available over the counter in pharmacies across the nation without age restrictions. According to the FDA, levonorgestrel is a synthetic hormone that has been used in birth control pills for over 35 years. It is for use after unprotected sex or contraceptive failure to prevent pregnancy.
The NIH National Library of Medicine provides information that has been historically reported about the how levonorgestrel, the active ingredient of Plan B, works:
Levonorgestrel is in a class of medications called progestins. It works by preventing the release of an egg from the ovary or preventing fertilization of the egg by sperm (male reproductive cells). It also may work by changing the lining of the uterus (womb) to prevent development of a pregnancy. 
In other words, in layman's terms, if there is ovulation and a baby is created, the third action of Plan B would come into play—it has already thinned the lining of the uterus making it difficult or impossible for the newly developing child to implant in the uterus, thus causing an abortion. Science shows without a doubt that at the moment of creation a new person has been formed. 
In order to sidestep science and propel the use of birth control, in 1965 the American College of Obstetricians and Gynecologists redefined "conception" to mean implantation of the early embryo in the lining of the uterus and identified this as the beginning of pregnancy. Still, the labeling and warnings have continued to include the action of the thinning of the uterus as the third part of the action of drugs like levonorgestrel.
However, on December 23, 2022, the FDA updated its website, in effect canceling the warnings about the drug's abortifacient effect that have long been disseminated.
In a question and answer format, the FDA wrote:
Q. Is Plan B One-Step an abortifacient (causing abortion)?
A. No. Plan B One-Step will not work if a person is already pregnant, meaning it will not affect an existing pregnancy. Plan B One-Step prevents pregnancy by acting on ovulation, which occurs well before implantation. Evidence does not support that the drug affects implantation or maintenance of a pregnancy after implantation, therefore it does not terminate a pregnancy.
The explanation given for the change is that the manufacturer of the drug has submitted updated information claiming the latest science shows it does not affect implantation. 
The FDA is a major pathway that Planned Parenthood and its allies have successfully chosen to influence so they can very quickly advance their war on the preborn. Attempting to rewrite well-known modes of drug operation at the behest of drug manufacturers does not change longstanding scientific knowledge of the drug's well-known, demonstrable modes of operation. 
Women deserve to know that when they take the morning after pill and other so-called birth control pills they are running the risk of abortions taking place, unknown to them. By hiding behind verbal gymnastics that today claim pregnancy does not begin until successful implantation of an already developing human being and then claiming that a drug that clearly has that potential does not, those promoting the drugs while failing to disclose vital information are deceiving an entire population. 
Remembering Our Founder Jim Sedlak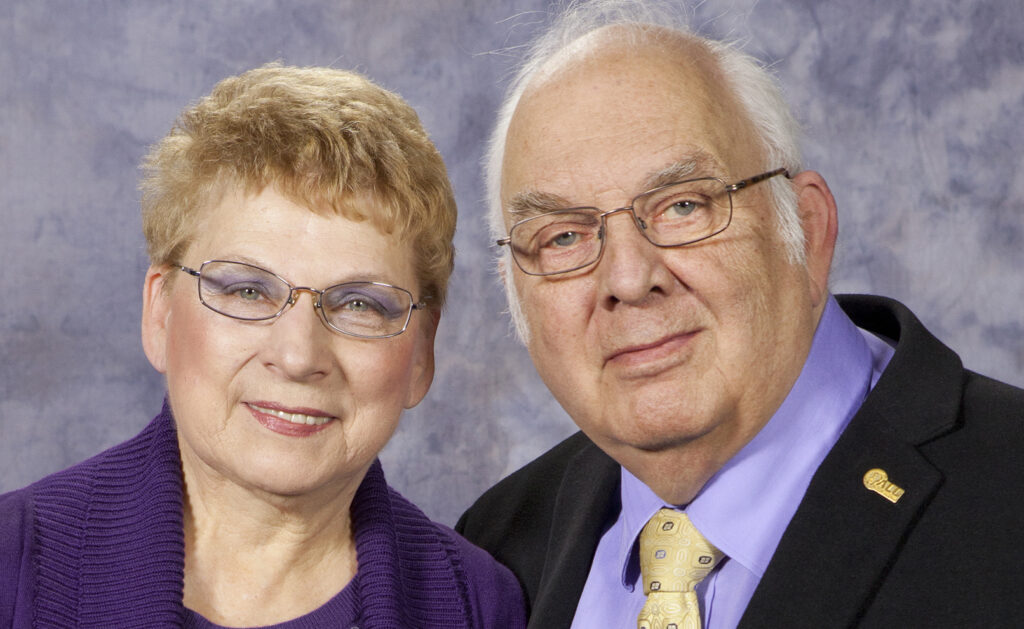 This week commemorates the first anniversary of the passing of STOPP's founder, Jim Sedlak, to his eternal reward. Jim was a fearless and unstoppable defender of the preborn. He happily traveled the US and the world sharing his research and knowledge of the operations of Planned Parenthood and had a huge impact on the closure of hundreds of Planned Parenthood facilities across the nation. He also kept his finger on the pulse of Planned Parenthood's racist roots and how that carried over into its current business model. He was instrumental in showing PP's racism decades before it began to admit culpability. He knew more about Planned Parenthood than most of its employees and CEOs. His knowledge, effectiveness, and dedication continue to be revered by pro-life leaders across the nation. 
I was privileged to work alongside Jim over a period of 12 years, along with Bishop John Yanta, in showing Planned Parenthood its way out of the top 26 counties of Texas. I then worked directly with Jim at American Life League and collaborated with him for many years. He never ceased to amaze me with his knowledge, dedication, and work to bring about the end of abortion and protection of families. 
Today we extend our deepest condolences to his dear wife and partner in pro-life work, Michaeleen, to his children and grandchildren, and to our many supporters who miss Jim so much. Indeed, he is missed every day at American Life League. We hold tight to the admonition he placed at the top of the Wednesday STOPP Report when he founded it: "Behold the Lord Jesus Christ, who tries so hard to get our attention!"
Let's pledge this year to give our Lord our undivided attention as we work to close the huge gaps that allow an increase in the killing of our tiniest brothers and sisters! 
Marian Surge Challenge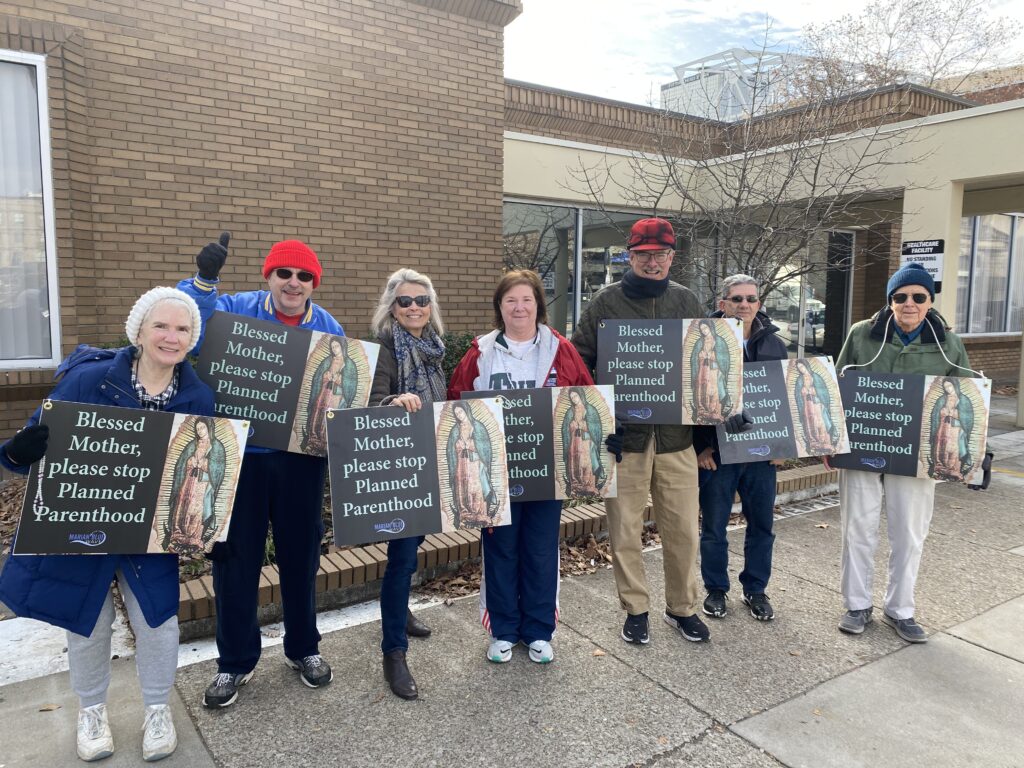 On December 12, ALL's Marian Blue Wave issued its first Surge Challenge, inviting everyone to pray the rosary on-site at a Planned Parenthood facility with pictures of our Blessed Mother. You can officially enter the challenge drawing and send us pictures of your prayer vigils to win a prize to benefit the nonprofit grassroots pro-life group of your choice. Full details are at the link above. Please join in!
Stopping Planned Parenthood is a spiritual battle, and in order to stop the tremendous evil of abortion it is essential to pray on-site at these facilities as often as possible, taking images of Our Lady with you. We have a beautiful prayer bookand other resources to accompany you in your prayer focus at the PP facilities.
We are pleased to share a picture we received from prayer partners who attend St. Martin de Porres Church in Louisville as they took to the streets to publicly proclaim the gospel of life by praying the rosary at Planned Parenthood. We love being able to share what our grassroots prayer partners are doing across the nation and the world.
Your picture could be in our next issue! Please share your good work with others around the world!
To learn more about the focus and history of the Marian Blue Wave, check out this second anniversary webcast from ALL's own Katie Brown and Dwain Currier. 
See You at the March for Life!
The national March for Life—our nation's largest annual pro-life gathering—is just around the corner. Come by our booth at the March for Life Exposition to visit with us and pick up some ALL signs, T-shirts, and other goodies! 
American Life League will be there January 18, 19, and 20 with a huge emphasis on our Marian Surge and information on becoming prayer partners in the Marian Blue Wave/Surge as well as our Associate Group program and much more! We can't wait to see you there as we stand together to end abortion and STOPP Planned Parenthood!