Action Item of the Week
–
Get the Word Out about the Pro-Life Essay Contest!
Tell your local schools, homeschools, and all kids in 5th-12th grade about the Pro-Life Essay Contest. This is a great way for students to articulate their pro-life beliefs (and win some awesome prizes!). The prompts are now available, and we are accepting essays from now through November 6.
Visit prolifeessay.com for details and to download a flyer that you can share with friends and family!
---
Week in Review

–

ALL Spokesperson Speaks with Teens in South Carolina; Hugh Brown Speaks at DC Men's March to Abolish Abortion

Last weekend on October 8, ALL spokesperson Katie Brown traveled to a Catholic parish in South Carolina to give a talk to a group of high school students.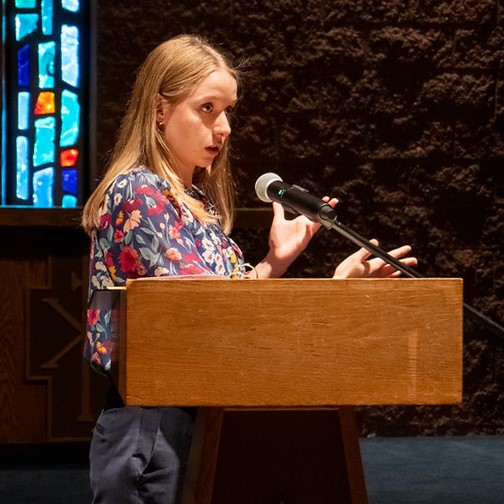 The parish, St. Philip Neri in Fort Mill, SC, hosted Katie to have a discussion with the teenagers about "Dating Pro-Life." The talk was attended by about 50 teens, who all asked thoughtful questions making the topic a fruitful discussion. Katie spoke about the purpose of dating, how teens can incorporate chastity into relationships, and what to look for when considering dating.
The conversation offered a new way of thinking about dating and chastity, not as something to fear, but something to embrace out of selfless love for one another.
The same parish also hosted Katie to talk to a group of about 50 Catholic middle-school students. Katie spoke about the dignity and sanctity of all human life and presented pro-life arguments against abortion and euthanasia. For many of the pre-teens in the room, this was their first time hearing pro-life arguments against abortion exceptions.
Katie presented all the cases for abortion exceptions and then debunked them for the crowd. During the question-and-answer portion, the young crowd asked questions that made it apparent this was the first time they had heard these arguments. But what was so encouraging was the way the young people asked their questions. Katie commented that it was apparent the kids were hungry for the truth!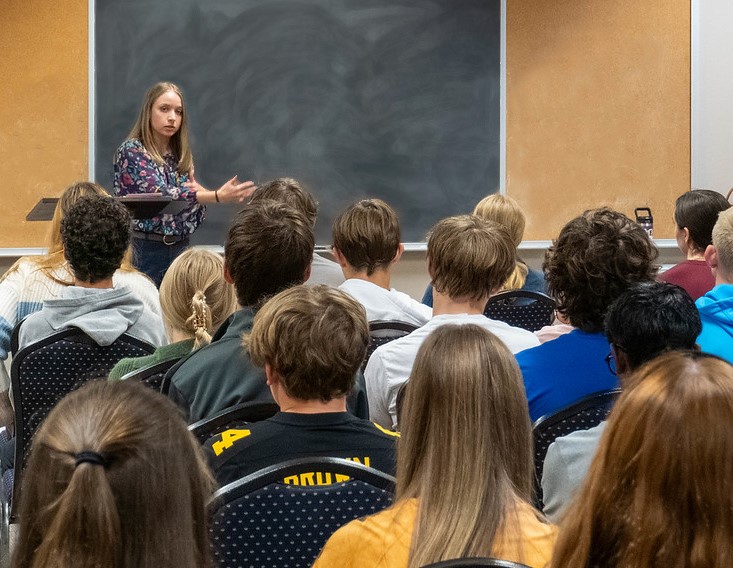 Young people are faced with so many challenges in today's culture. The odds are, in most cases, stacked against them. When ALL is granted an opportunity to travel and engage with youth, it is always a blessing! At the middle school and high school ages, you never know what might change a heart or what seed might be planted that takes root later. Please join us in prayer for the youth at the St. Philip Neri Parish in South Carolina.
Over the same weekend, on October 7, the Feast of Our Lady of the Rosary, Hugh Brown traveled to the nation's capital to attend the Men's March to Abolish Abortion. Hugh was invited as a speaker for the event, to talk on men's responsibility to shepherd the flock and protect women from abortion.
Hugh marched with the attendees from the DC Planned Parenthood location to the US Supreme Court while praying the rosary. The group faced violent threats from abortion supporters but were kept safe by local law enforcement. "From 9:30 am to 4:30 pm, there were protesters," comments Hugh. "I don't say this often, but possession was evident and present. Hatred screaming, cursing, blasphemy, blaring megaphones and sirens and whistles. Obscenities screamed at women and children. For seven hours, these people never stopped. They were met with mercy and prayer. (Although the middle linebacker in me wanted to respond, he did not.)"
"I share all this because it's never been more evident to me the devil is unleashed, unhinged, unafraid, and he will not go quietly. But what is clear to me is men must lead. Public professions of faith with Eucharistic processions, the rosary, the Divine Mercy Chaplet, and the Mass will defeat the devil. Nothing else will work. I was asked to lead a decade of the rosary, and I will say this, they got my pre-game speech voice while I prayed the rosary, and it was amazing to me that as the Hail Mary was being prayed, they stopped screaming each time."
Hugh documented the event on camera. The raw footage can be seen here, but as a warning, some of the content includes graphic language from the pro-abortion protestors.
Hugh Brown was a recent guest on the Relevant Radio show Trending with Timmerie. Hugh and Timmerie regularly discuss current events in the Catholic culture. Listen to the show here.
Hugh was recently interviewed by American Family News for comments on the irony of the WHO celebrating "safe abortion day." Read Hugh's comments here.
Susan Ciancio, Celebrate Life Magazine editor and director of CLSP, writes a weekly commentary on timely pro-life topics. This week, she wrote an op-ed discussing the statistic that 67% of rape victims regret having an abortion or did not want one in the first place. Read the article here. Last week, Susan penned an op-ed celebrating the fourth anniversary of ALL's Marian Blue Wave program. The op-ed was published by Catholic World Report.
CLSP announced its 2023 Pro Life Essay Contest, which runs until November 6. Read the full statement here. The announcement was also printed by Western New York Catholic. Also, in celebration of Carlo Acutis' feast day on October 12, the new CLSP lesson about his life is on sale. And our latest blog post tells about this amazing young man.
The Spring Summer issue of Celebrate Life Magazine was recently distributed. One of the articles, titled "We Deserve to Know: The Human Cell Product Labeling Act," can be found online here.
---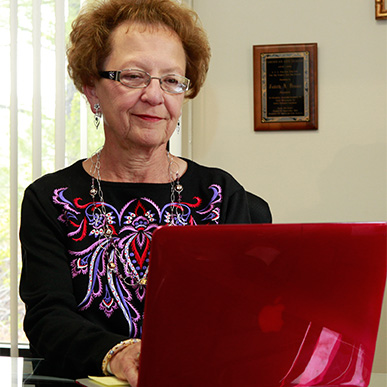 Twice a week, Judie's commentaries are distributed to an expansive media list. The list contains over 100 media outlets, such as Fox News, The Federalist, Breitbart, and The Daily Caller, among others. Judie's commentaries are each featured on the front page of ALL.org. Each commentary is also featured as a part of Judie's recurring column on Renew America.
---
Pro-Life Social Media – Getting to Heaven Is More Important Than Winning Elections

American Life League recommends voters to step into the voting booth as if Christ is at your side. Can a faithful Catholic, in good conscience, vote for a pro-abortion candidate? What if the candidate is for killing preborn children so long as a heartbeat cannot be detected? That candidate, too, is pro-abortion.

This is the dilemma that faithful Catholic voters face every election cycle. Hugh Brown joins Trending with Timmerie to discuss priorities and non-negotiables when it comes time to vote. Listen below: