Week in Review – 
Card Game Company Vows to Donate Proceeds to Abortion; Since September 3, Several PP Locations have Shuttered
The company that produces the foul card game, aptly named Cards Against Humanity, is taking a stand against—humanity.
The company has vowed to donate 100% of the proceeds from sales of the game to the National Network of Abortion Funds when one is purchased online in a state that restricts abortion.
To take it a step further, the company donates an extra five dollars if the purchaser clicks a button that says, "What? I'm pro-life! I didn't agree to this."
Upon clicking this button, the screen displays this message:
So you don't want us using your money to pay for abortions?
You know, sometimes people have values imposed upon them by bigger, more powerful entities, and they are forced to do things they don't want to do, like carry an unwanted pregnancy. For example, we just added an extra $5 donation to the National Network of Abortion Funds to your cart.
In this week's edition of the Wednesday STOPP Report, Rita Diller reports that several Planned Parenthood locations have closed since September 3.
While Planned Parenthood repeatedly trumpets that it has not closed a single facility since the Dobbs decision came down from the Supreme Court on June 24, FOX News is reporting that Planned Parenthood of the Great Plains is closing its facilities in Missouri, Arkansas, Kansas, and Oklahoma for at least one week. The closures, it says, were set to start September 3.
Planned Parenthood officials cited "brutal" working conditions over the past year and said it was not sustainable for employees, who will rest while they "see what happens next."
---
ALL in the News

– WSR Released This Week; Katie Brown on the Pro-America Report; MBW Announces Second-to-Last Mega Intention

The latest Wednesday STOPP Report was released this week, covering an exciting new expansion of the Marian Blue Wave program coming this October.

Last week, Katie Brown, director of ALL's Marian Blue Wave program, was interviewed by Ed Martin on the Pro-America Report. The interview covered Katie's involvement with the pro-life movement, especially as it relates to her grandmother, Judie Brown.

ALL's Marian Blue Wave program announced their second-to-last mega Planned Parenthood facility intention this week. The program asks Catholics to pray one Rosary a week for the specific intentions of ending all types of abortion and shutting down all Planned Parenthood facilities. Each month, the program puts special focus on a state containing one or more "mega" facilities (one that is more than 10,000 sq. ft.). This month, the focus is Hawaii's one mega facility in Honolulu.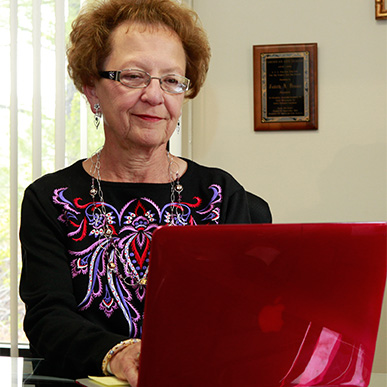 Twice a week, Judie's commentaries are distributed to an expansive media list. The list contains over 100 media outlets, such as Fox News, The Federalist, Breitbart, and The Daily Caller, among others. Judie's commentaries are each featured on the front page of ALL.org. Each commentary is also featured as a part of Judie's recurring column on Renew America.
---
Video of the Week

 – Is the Use of Placental Stem Cells Immoral?
There is confusion about the use of stem cells harvested from human placentas. Are they tainted? Are they derived from murdered, preborn children?
We explain below in 30 seconds.
---
Action Item of the Week

 –

The Pro-Life Essay Contest is Back!!

Calling all middle and high school kids! The Culture of Life Studies Program is sponsoring a pro-life essay contest in October!

What an amazing way to grow in faith! What an amazing way to grow as a human being!

Due to high demand and because we know how important it is to hone the ability to articulate pro-life beliefs, we have brought back the contest!

This year, our contest is just for middle and high schoolers. There will be two age categories (middle school is 5th through 8th grade, and high school is 9th through 12th grade) with one prompt for each category.

We will post the prompts, the rules, the prizes, and all the details in late September on our website, and we will send out email reminders and post on social media at that time. Students will then have all of October to write and submit their essays.

Why October? October is Respect Life Month, so we can't imagine a better way to celebrate a respect for life than to share the truths of life with your children or students.

Join us!
---
Pro-life Social Media

 –

'You're Not Catholic'; Anti-Catholic Group Hit With 'Minority' Opinion

One could hardly expect to find the Catechism of the Catholic Church in the offices of the anti-Catholic "Catholics for Choice." C4C worships conscience while rejecting Christ. Paragraph 1783 of the CCC reads in part:

Conscience must be informed and moral judgment enlightened. A well-formed [emphasis ours] conscience is upright and truthful. It formulates judgments according to reason, in conformity with the true good willed by the wisdom of the Creator.

C4C believes that any evil act is good so long as the sinner is committing it in good conscience, such as killing one's preborn child.
Anti-choice Catholics can be loud, but they are the minority in the church. We believe that the Catholic tradition's teachings on social justice, human dignity, and the primacy of conscience compel us to support reproductive freedom – and the majority of Catholics are with us.

— Catholics for Choice (@Catholic4Choice) September 8, 2022
"Primacy of conscience" is nowhere to be found in the Catechism. It's a false idea that man's conscience is the final authority on what is morally right, and that man has a grave obligation to follow it, despite it being contrary to Church teaching.
You're not in communion with the Church. The teaching on protecting babies in the womb will never change. Your efforts are futile.

— John LaDuca ✝️🇺🇸 (@jld249) September 8, 2022
Cool motive, still murder.

— Chico (@chikinbr) September 8, 2022
You're not Catholics. You're cosplayers.

— Denis Gajcew (@DenisGajcew) September 8, 2022
Objective truth exists. It is not a matter of choice.

— Michał Mazur (@michalmazur85) September 8, 2022
Majority or minority does not dictate what is truth. Even if the majority supported rape, it would still be wrong. https://t.co/fEFnJTgKOB

— Jess 🇻🇦❤️‍🔥 (@Yearns4Heaven) September 8, 2022
---