In This Issue
Planned Parenthood paying Indian children to take offensive sex education course
Planned Parenthood reopens Kingston facility
Planned Parenthood and the Women's Health Protection Act
Sioux Falls fighting Planned Parenthood with God
Planned Parenthood paying Indian children to take offensive sex education course
By Jim Sedlak
From the first years of STOPP's existence, we have been actively fighting Planned Parenthood's sexuality education programs. Planned Parenthood Federation of America even identified us in 1993 as one of the 15 "most active" fighters against PP sex education programs. As we've documented time and time again, the intent of these programs is to teach children how to obtain sexual satisfaction before marriage. They also create a great deal of revenue for Planned Parenthood, as the young people buy birth control products as part of their sex lives.
Troubling news came out of California this week when the Yurok Tribe announced that Planned Parenthood Northern California was going to be remotely teaching their children a sex education program. The post on Facebook was: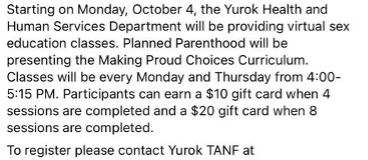 The Making Proud Choices program from ETR Associates (a group with links to Planned Parenthood) has been controversial throughout the nation for several years. Among the concerns about the Proud Choices program were the items enumerated in an article printed in the Telegram & Gazette in Worcester, Massachusetts:
The chairman of the Standing Committee on Teaching, Learning and Students questioned its seemingly overly liberal approach towards sex, as well as its graphic presentation of subjects like condom use, intercourse, and masturbation. He cited a suggested exercise in the curriculum that attempted to promote use of prophylactics during sex, for example, by proposing students "act sexy/sensual while putting on the condom," or "hide a condom on your body and ask your partner to find it. He also said the program's discussion of the health benefits of masturbation could be insensitive to families whose cultural or religious background frowns upon the practice.
The fact that the tribal health and human services department would choose this program to give to their children is disturbing. Equally disturbing is the fact that it has chosen Planned Parenthood to present the program to the children.
On its website, the Yurok Youth description includes the statement, "Yurok Youth teaches traditional values and uses cultural activities to help young people choose healthy and productive lifestyles." It also states that "The Yurok Youth Programs will be offering one on one and group sessions for Self Esteem Building, Teen Pregnancy Prevention, Alcohol abuse, Dating Violence and Meth Prevention."
Given these objectives, it is alarming that the Tribal Assistance for Needy Families (TANF) has chosen a program that teaches children as young as 11 about masturbation and enjoying sexual activities. Also, given the fact that Planned Parenthood has never been able to show that its programs prevent teen pregnancy, the choice of PP as the organization in charge of the programs is frightening.
Planned Parenthood has always known that getting kids involved in sex education programs is the best way to increase sales of its birth control products and, eventually, increase its abortion business. The fact that TANF and Planned Parenthood are willing to pay Yurok children to take this course is further testimony to these facts.
We ask our readers to respectfully contact the Tribal Council Members and ask them to reconsider the tribe's involvement with Planned Parenthood. Please pray that the council can put a halt to Planned Parenthood's attack on their youngest members.
Jim Sedlak is executive director of American Life League, founder of STOPP International, and host of a weekly talk show on the Radio Maria Network. He has been successfully fighting Planned Parenthood since 1985.
---
Planned Parenthood reopens Kingston facility
Last week, Planned Parenthood Greater New York celebrated the reopening of its abortion center in Kingston, New York. The center was temporarily closed over a year ago amidst the pandemic and the PPGNY organization coming under fire for its racist activities. Among the reasons behind the reopening of this—and four other PPGNY facilities (Goshen, Massapequa, Rome and Staten Island) —center is the $10 million Payroll Protection Program loan PPGNY received illegally from the Small Business Administration.
Another reason for Planned Parenthood's optimistic reopening of facilities is the fact that the Biden administration has been working hard to increase federal taxpayer money to Planned Parenthood. This past Monday, for example, Biden's Department of Health and Human Services announced a new regulation that will restore the federal family planning program (Title X) to the way it ran under the Obama administration, when clinics were able to refer women seeking abortions to a provider. Planned Parenthood is now expected to rejoin the program and get over $60 million in taxpayer funds.
In addition, the administration has been making changes in several laws that will make it easier for Planned Parenthood to commit more abortions—many at taxpayer expense. The most notable change in this regard is allowing the Abortion Pill to be sold to women without the need for an in-person meeting. The administration rushed through this change, citing the COVID pandemic as the reason, but is working hard to make that change permanent. This will make it possible for Planned Parenthood to use telehealth visits to prescribe the Abortion Pill and then simply mail the pill to the mother so she can kill her child at home.
So far this year, Planned Parenthood has opened, or reopened, a total of 12 clinics nationwide. Those clinics are in Arkansas, California, Delaware, Florida, Michigan, New York, and Pennsylvania. STOPP is working with people from many of these states either through personal visits, phone calls, or virtual meetings to provide our expertise on disrupting Planned Parenthood's business plans and saving preborn lives and the souls of vulnerable teenagers.
STOPP was founded in 1985 by four individuals (Helen Westover, Dorothy Madrigrano, Robert Cassara, and Jim Sedlak) in New York State. Our initial focus was on Planned Parenthood Dutchess-Ulster—which operated clinics in Amenia, Beacon, Ellenville, Kingston, New Paltz, Poughkeepsie, and Red Hook. Only Kingston and Poughkeepsie are still open. Our focus has always been to cause such discontent with Planned Parenthood that it will have no choice but to close its doors and get out of town.
Despite the reopening of some Planned Parenthood centers, all the fighters against Planned Parenthood are steadfast in our efforts to rid the country of Planned Parenthood . . . forever!
---
Planned Parenthood and the Women's Health Protection Act
One of the most dangerous bills in the Congress this year is the Women's Health Protection Act (H.R. 3755). The WHPA would write the right to an abortion into federal law and give the federal government control over which laws concerning abortion can be passed in each state. You can be sure that, if passed and signed into law, the WHPA would wipe out every restriction on abortion in every state.
The bill passed the House of Representatives on September 24 by a vote of 218-211. Only one Democrat, Congressman Henry Cuellar of Texas, voted against the bill. Every Republican voted against the bill.
This week, Planned Parenthood Federation of America president, Alexis McGill Johnson, did an interview on Democracy Now! on a number of subjects. Below is the unedited transcript of the question and answer specifically about the Women's Health Protection Act:
AMY GOODMAN: I wanted to ask you about WHPA, about the Women's Health Protection Act, that Congress — the House passed overwhelmingly. And I want to go now to the Senate, because that's where it would have to be voted on next. Now, the Democrats are in charge — by a hair, but they are in charge. But still, it looks like it cannot pass. And looking at recent Los Angeles Times coverage of one senator, Susan Collins of Maine, she said, "I support codifying Roe. Unfortunately, the bill … goes way beyond that. It would severely weaken the conscious exceptions that are in the current law." She said she found parts of the bill's language "extreme." Collins said she's talking with other senators on a potential bill that truly would codify Roe. She's going to vote against WHPA. Can you explain what it is, its significance? And what is your strategy for dealing with the Senate?
ALEXIS McGILL JOHNSON: Yes. So, WHPA is the Women's Health Protection Act. It is a law that would stop these horrific bans, like S.B. 8 in Texas, and would prevent further erosion by states on our federally, constitutionally protected right to access abortion.
The idea that Susan Collins, you know, who claims a pro-choice mantle — you know, also is someone who has put Brett Kavanaugh into a lifelong appointment — has decided to go in this direction against the Women's Health Protection Act is quite alarming. You know, we are trying to ensure that our — you know, we are obviously on calls with all of our senators, trying to make sure that they will support this incredibly important legislation. But we're also activating folks in the streets to have those same conversations, to make sure that people know that the majority of Americans support safe and legal abortion. It is a majority position.
And reproductive freedom has always been under constant attack. So, it's really incredibly important for us to continue to push our lawmakers, our senators, to get them on record, knowing that this, in the middle of this year, when the Supreme Court is taking up Jackson v. Woman's Health, is going to be a conversation that we're going to have for the next 12 months.
This exchange clearly shows the importance that Planned Parenthood is placing on the ultimate passage of the Women's Health Protection Act. It is really a call to all those who oppose abortion to get serious about stopping this act in the Senate. Please do whatever you can, peacefully and prayerfully, to stop the WHPA in the Senate!
---
Sioux Falls fighting Planned Parenthood with God
Experienced fighters against Planned Parenthood know that any effective fight against Planned Parenthood must involve Jesus and His Blessed Mother. Planned Parenthood, of course, is an instrument of Satan, so bringing God into the battle is necessary and will ultimately lead to success.
The examples of how this is done are spread all over the country. Recently, there has been some attention paid to the Planned Parenthood abortion facility in Sioux Falls, South Dakota. In an August edition of Bishop Donald E. DeGrood's Bishop's Bulletin, in the Diocese of Sioux Falls, the fact that fighters against Planned Parenthood have set up a chapel in an apartment next to the Planned Parenthood abortion facility was highlighted.
You can see a picture of the apartment chapel here.
The Bishop's Bulletin mentions that the Mission S.O.S. organization has coordinated its efforts with the men of Jericho Wall. Earlier this year, the following post was on the Facebook page of the Jericho Wall:
January 2021 Brothers and Sisters in Christ:
Praised be God! We can now pray in a chapel right next to Planned Parenthood.
A chapel has been placed in the apartment complex next to Planned Parenthood in Sioux Falls. The Most Holy Mass was celebrated there on December 28th and December 8th (very fitting)! Although the Most Holy Sacrament is not present 24/7 yet, the bishop is discerning permitting the presence of Jesus AT ALL TIMES in the chapel. There is also talk of starting times of adoration! Stay tuned for more details on adoration and the presence of the Most Holy Sacrament!
We congratulate all who bring God into the fight against Planned Parenthood. Be faithful and you will win . . . in His time. If you live in the Sioux Falls area, or are traveling through on vacation, please take the time to pray at the Planned Parenthood abortion facility.