By Judie Brown
Father Richard Bucci made headlines recently when he had a flyer printed and distributed at his parish. This document listed all of the state legislators who voted to place protection for abortion into Rhode Island law. Bucci announced that those who voted in favor of the law could not receive the body of Christ in Holy Communion, nor could they serve as marriage witnesses, godparents, or lectors at Church functions.
All of sudden, Father Bucci became a national hero to some, yet a villain to others.
The spokesperson for Bishop Thomas Tobin of Providence, Rhode Island, made it clear that the bishop was not about to criticize Bucci. An official statement from the diocese reads:
For every sacrament, the Church provides detailed norms for preparation and reception. It is the pastor's duty to apply them within his parish, in accord with Church law. This includes the proper reception of Holy Communion as outlined by the Code of Canon Law. Because the Church entrusts to each pastor the duty of teaching, sanctifying, and governing his parish, the daily pastoral and administrative decisions are made at the local parish level.
Bucci's actions are in direct contrast to those of San Diego's bishop, Robert McElroy; Germany's bishop, Franz-Josef Bode; and the Vatican's bishop, Marcelo Sánchez Sorondo, each of whom have the dubious honor of being recognized for denying Catholic teaching or choosing to view it as fungible.
According to a recent Catholic News Agency article, San Diego's Bishop McElroy "attempted to explain his criticism of the elevation of abortion over other political issues." He said that Catholics "have to consider a multitude of social issues and the Church's teachings on these issues when deciding who to vote for. These issues include abortion, euthanasia, immigration, poverty, and a whole host of other concerns."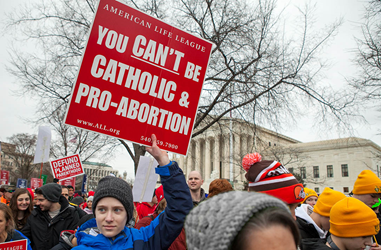 Frankly, when a Catholic bishop suggests that both abortion and climate change are "core life issues in the Catholic Church" something is seriously wrong. How can anyone who believes in the doctrinal teaching of the Church suggest that murdering an innocent child is on par with the politics of climate change?
And of course Germany's Bishop Franz Bode made headlines when he suggested that the Church should change its teaching on celibacy, thus allowing priests to marry. It was Bode who further recommended that homosexual unions and other such departures from Catholic teaching receive blessings in the Church.
Bode's statements inspired Bishop Joseph Strickland of Tyler, Texas, to tweet: "Bishop Bode . . . I respectfully call you as one bishop to another to return to the truth of the Deposit of Faith for your salvation and for the good of the Church. Your statement that Christ became a human being but not a man is ridiculous & heretical. I cannot stand by in silence!"
We add to that Bishop Sorondo and his very strange attitude on the Eucharist. He chose to give Holy Communion to Argentine president and pro-abortion politician Alberto Fernandez and his live-in girlfriend. That decision raised eyebrows. But Sorondo retorted that because Fernandez had not been excommunicated he was free to receive the body of Christ! In other words, Sorondo has no respect or regard for Canon 915.
These are but three ordained men of the Church who give us pause as we praise God for heroic priests like Father Bucci, Bishop Strickland, and many other ordained men of courage.
When we consider McElroy, Bode, and Sorondo in the context of George Gershwin's wonderful song "It Ain't Necessarily So" from the opera Porgy and Bess, we see a theme that could well be applied to those three bishops. For just like Sportin' Life—the opera's wayward character—these bishops appear to be in agreement with the lines:
Oh, I Takes Dat Gospel
Whenever It's Pos'ple –
But Wid A Grain Of Salt!
It is truly a tragedy to see bishops taking Catholic doctrine with a grain of salt!