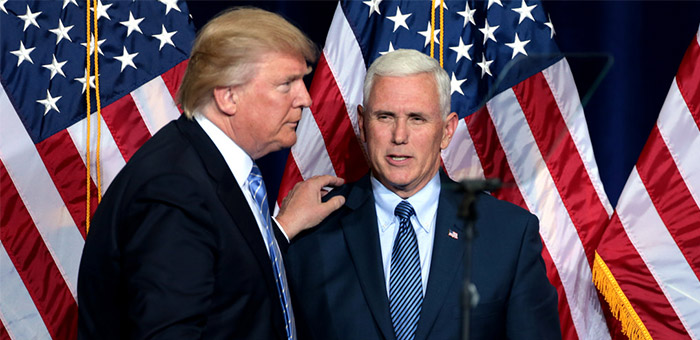 Trump, Pence, Abortion, and Planned Parenthood
This week the pro-life movement in the United States has been focused on the inauguration of our new president and vice president and how that will affect abortion in our country.
Donald Trump often spent time in his campaign talking about pro-life topics and even putting together a list of potential nominations for the Supreme Court. Most of the nominees Trump named would be good replacements for Justice Scalia. Trump is expected to name his nominee within the next 30 days. His selection to fill Scalia's seat, along with at least one other selection he may have, could form the court's ideology for decades to come. As President Trump starts his presidency today, how he shapes the Supreme Court will be his most important decision in the eyes of the pro-life movement.
That being said, the second most important decision he makes will be the funding of Planned Parenthood with taxpayer money. For that, all pro-life eyes are on Vice President Mike Pence, who has been a stalwart opponent of Planned Parenthood and who led the first effort in Congress to defund the organization back in 2007. He continually argued against Planned Parenthood and, as governor of Indiana, continued his efforts to take money away from Planned Parenthood.
Pro-lifers focus so much energy on Planned Parenthood because it runs the largest abortion chain in America, operating 625 centers and killing 324,000 babies a year. That is 35 percent of all the medical and surgical abortions done in the United States each year. In addition to physically killing all these babies, Planned Parenthood proclaims itself as the largest provider of sex education in the United States, and it makes millions of dollars selling so-called contraceptives that end the lives of millions of children before they can implant in their mother's womb.
We know that some of our readers are concerned about President Trump and what he will actually do. For those who feel that way, we will give you one specific thing you can celebrate without reservation today: Hillary is NOT our new president. She would have been more pro-abortion and anti-life than even Barack Obama.
On this inauguration day, we ask God to bless our new president and vice president. May He give them the wisdom to understand how to stop the slaughter of the innocents in America, and may He give them the courage to take the action needed to reach that goal.
NOTE: Because most of our staff will be in Washington, DC next week for the March for Life (see Action Item of the Week), we will not send out the PLTW next week. The next issue of this newsletter will come to you on Friday, February 3.
image: Gage Skidmore via Flickr | CC-2.0