Pro-Life This Week – October 18, 2019
Week in Review – HALO Warns Against PCHETA; Marian Blue Wave Goes Global
Earlier this week, the Healthcare Advocacy and Leadership Organization (HALO) released a press release expressing their concern and opposition to the federal Palliative Care and Hospice Education and Training Act (PCHETA).
HALO states they support hospice and palliative care providers who "respect the dignity and life of every patient, give honest information to patients and their families, and provide appropriate pain control and comfort measures."
The organization explains that current federal hospice programs are plagued by fraud, poor quality care, rampant abuse, and intentionally caused deaths. HALO warns that enacting another federal hospice program would only cause more of the same issues.
Additionally, HALO warns that if PCHETA becomes law, it will finance education programs to entice the public into trusting palliative care and hospice. HALO's bottom line is that Hospice and Palliative Care Medicine "must be cleaned up before any more taxpayer funds are spent promoting it."
The new campaign designed to take down abortion and Planned Parenthood, the Marian Blue Wave, has officially gone global. As of this week, over 1,100 people have committed to saying a Rosary once a week for an end to abortion in America. However, in an unforeseen twist, some of those commitments have come from individuals in 10 different countries, including: Canada, Mexico, Portugal, Brazil, India, Ireland, the United Kingdom, Australia, Poland, and the United States. As it would seem, the Blessed Mother wants the Marian Blue Wave to extend much farther than we first planned. As the Marian Blue Wave receives more commitments every day, we will surely surpass 1,200 in the coming days.
---
ALL in the News – MBW Coverage and Exciting Announcement
Following the announcement of the Marian Blue Wave, Church Militant released an article highlighting the new campaign. The Marian Blue Wave, which has been in operation for only a week, has now reached global status with over 1,100 supporters in 10 different countries. Judie Brown released this exciting announcement in a statement on Tuesday afternoon.
Jim Sedlak was interviewed for an article regarding Planned Parenthood's recently announced plan to spend $45 Million in the 2020 election. The article was published by One News Now.
Judie's weekly commentaries continue to be featured as a column on Renew America. This week, her Tuesday commentary, 'My Care, My Right' devoid of God, appeared on the site's front page.
Jim Sedlak's Pro-Life Activism from Creation to Death is a weekly talk-radio program on the Radio Maria USA network. The show can be heard live every Friday at noon (Eastern Time) and is repeated on Saturdays (10 PM).
---
Video of the Week – People DON'T Begin in the Womb
The facts about human embryology tell us when and where a new human being comes into existence. So why do pro-life advocates use the phrase "begins in the womb," since people don't begin there?
---
Action Item of the Week – It's Not Too Late to Join the Marian Blue Wave
The Marian Blue Wave has taken the world by storm this past week. With well over 1,100 commitments in 10 different countries in just a few days, this new campaign will truly be the end of all abortion!
If you have not yet joined, there is still time! Those who commit agree to say a Rosary once a week for the specific intention of ending abortion in America. This tried-and-true method has worked in the past, and we are confident it will work now.
Our interactive Marian Blue Wave map is able to pinpoint our supporters all across the world. If you haven't taken a look at the map, click here. It is truly impressive!
The best part of the Marian Blue Wave is it doesn't matter where you are. No matter where you live, this is something you can be a part of! Join the Marian Blue Wave today!
---
Pro-life Social Media – International Pronouns Day
Planned Parenthood's infinite pursuit to be relevant on every social justice invention takes us to a day no one asked for—International Pronouns Day. If pretending to be something you aren't isn't enough, there's a day for celebrating pretend words used to describe people doing the pretending. Don't be bothered if none of this makes sense. It doesn't. It makes as much sense as Planned Parenthood having birthday celebrations when its business is all about preventing them. Here's how Planned Parenthood instructs its Twitter followers on the proper use of imaginary pronouns:
It is important to respect people's pronouns and use them. If you don't know someone's pronouns, just ask. And if you mess up a person's pronouns by accident (it happens), be sure to apologize and use their correct pronoun in the future. #PronounsDay19 #PronounsDay pic.twitter.com/G8jXvPRQYv

— Planned Parenthood (@ppmn) October 16, 2019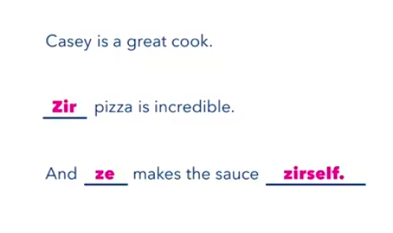 Remember when School House Rock taught us how "saying all those nouns over and over can really wear you down"? Now all the pronouns are going to wear us down. "Zir"? "Ze"?
What are the pronouns for aborted fetuses?

— Mark Fidelman (@markfidelman) October 16, 2019
First you have to care about someone's pronouns.

— Bloviating Zeppelin (@BZep) October 17, 2019
October 17, 2019
These are the heights of absurdity once thought unobtainable.

— Joe Pallone (@Plonerock) October 17, 2019
He and She ! The End!

— Cookiesox3 (@cookiesox3) October 16, 2019
Zirself? Ximself? Seriously?!

— Meg (@Watwood6pack) October 17, 2019
why is this a thing??

— RunRoseRun (@rosaboo909) October 16, 2019
We have no idea, but apparently the "War on Women" died and no one noticed. Should we expect a new Planned Parenthood campaign, "Stop the war on ze!"?