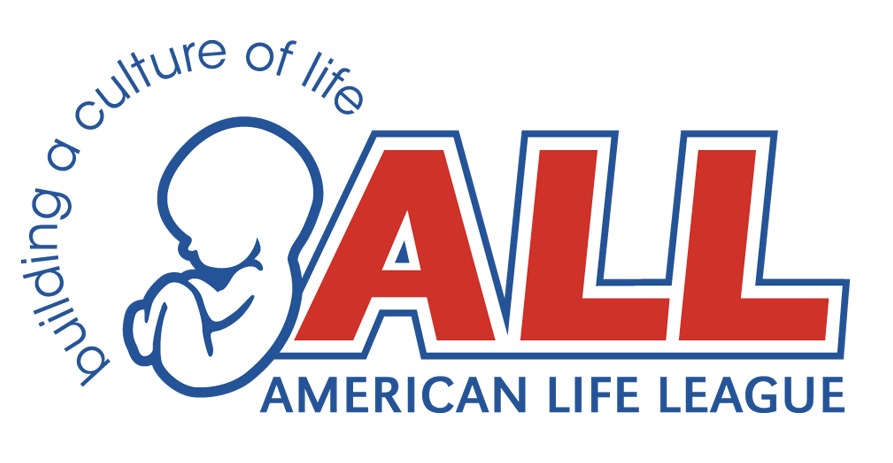 Pro-Life This Week – May 24, 2019


Week in Review – France's Terri Schiavo barley escapes execution; Debi Vinnedge exposes the truth behind a misleading article on vaccines
Over the last few weeks in France, Vincent Lambert, referred to as France's Terri Schiavo, has barely escaped execution.
According to LifeSiteNews, Lambert, 42, suffered head injuries in 2008 that left him a tetraplegic. In 2013, he entered a coma and "vegetative state" and was diagnosed as being "minimally conscious". This means Lambert is "capable of feeling painand pleasure as well as emotions but not able to communicate consistently with those around him." Since 2013, Lambert has received food through a feeding tube.
This Monday, May 20, 2019, Lambert was taken off of life support. Then, by what is being described as a miracle, a French court ordered the hospital to continue his life support.
Lambert's doctors had removed his feeding and hydration tubes and begun to give him sedatives to knock him out while he slowly died. Only hours later, thanks to Lambert's legal team, the court decision to kill Lambert was delayed. The Committee on the Rights of Persons with Disabilities, under the United Nations, will now review the case.
While euthanasia is illegal in France, there is a law, enacted in 2005, that allows doctors to withhold treatment "with no other effect than maintaining life artificially."
Unfortunately, Lambert's family is split in their decision on saving his life. Lambert's wife and six of his eight siblings support the removal of his feeding tubes. His parents and legal team have been his only defenders.
On May 21, 2019, the day after Lambert was saved, the Vatican released a statement calling for the protection of Lambert.
"The suspension of such care represents, rather, a form of abandonment of the patient, based on a pitiless judgment of the quality of life, expression of a throwaway culture that selects the most fragile and helpless people, without recognizing their uniqueness and immense value."
Until the Committee on the Rights of Persons with Disabilities reviews his case, Lambert will remain on life support.
On May 20, 2019, Debi Vinnedge, executive director of Children of God for Life, released an article highlighting glaring errors in a recent article entitled "What does the Catholic Church teach about vaccines?" This article features many misleading errors, and Vinnedge has attempted to reach the news outlet, Catholic News Agency, recommending they correct their mistakes.
After weeks of silence, Vinnedge has taken it upon herself to correct the article. Vinnedge points out and addresses the multiple errors in great detail. If you have not read her corrections, it is worth a thorough read.
---


ALL in the News – Global media coverage and pro-life radio
American Life League was recently featured in two foreign news outlets, linked here and here. Judie Brown continues to receive national and global attention following her comments about recent abortion bans and restrictions.
Jim Sedlak was featured in a Church Militant article entitled Leftists Go Into Orbit Over Recent Pro-Life Laws. Sedlak expressed his view on how the left is responding to the recent legal decisions concerning abortion.
American Life League's Twitter continues to attract attention from both sides of the abortion spectrum. A recent Yahoo article highlighted one specific ALL tweet calling out Bette Midler for "hating children."
Jim Sedlak's Pro-Life Activism from Creation to Death is a weekly talk-radio program on the Radio Maria USA network. The show can be heard live every Friday at noon (Eastern Time) and is repeated on Saturdays (10 PM) and Mondays (10 PM).
---


Video of the Week – My Abortion Experience
While abortion activists proudly carpet-bomb social media with their abortion stories, a few testimonies of regret creep through. One of these is by Stacey Ayers, a musician who shared her story via YouTube. It's a tough story for Stacey to tell, and it's just as tough for us to listen to it. Stacey admits she's a mother and is still coming to terms with what she's done.
---


Action Item of the Week – Rosary with Judie Brown – POSTPONED to May 31
Today, May 24, 2019, Judie Brown will be hosting a Facebook Live Rosary. This rosary will be offered up for the conversion of pro-abortion Catholic politicians. The rosary will start at 8:00 pm (EST), 5:00 pm (PST).
To join Judie in reciting the rosary, simply follow the link to the American Life League Facebook Page. At 8:00 pm (EST), Judie will log on and host her live rosary. You can follow along from wherever you are located.
Any prayer intentions can be added by commenting on the Facebook page, or by sending them via Facebook messenger.
---

Pro-life Social Media – Bette Midler calls Alabama and Georgia lawmakers Neanderthals for nearly total abortion ban
Musings by pro-abortion celebrities run as deep as Botox to the face. Their support for unrestricted abortion-on-demand reminds us that they're materially wealthy but spiritually destitute.
This past week, tweets from the rich and famous remind us of the disease that runs through Hollywood. It's a disease that feigns concern for born children, while condemning those who care for the ones waiting to be born. The pro-abortion elites of Beverly Hills want to re-define pro-life in their image. Apparently, you can't be pro-life if you don't care about the things they pretend to care about.
Hocus Pocus star Bette Midler weighed in: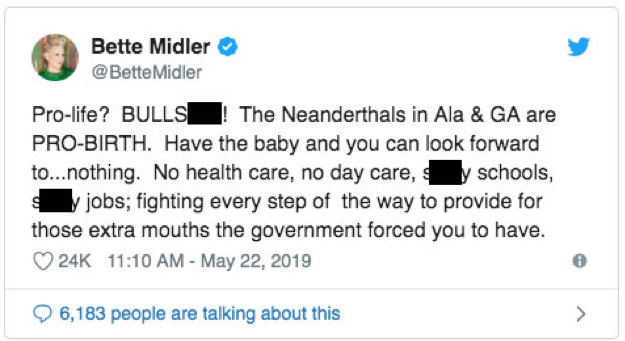 Why do people who support the dismemberment and decapitation of preborn children think they have the moral ground to dictate what is and what is not pro-life?  They want to call us "pro-birth."  We're fine with that.
They're anti-birth.