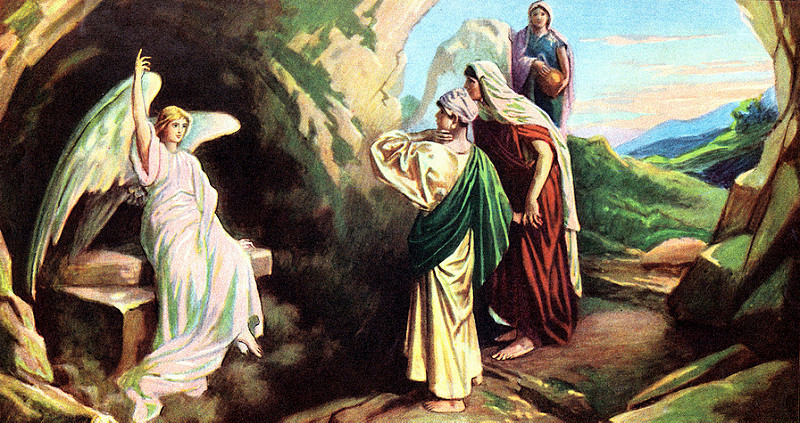 No Greater Love: Celebrating Easter
By Laura Kizior
The two greatest feasts of the Christian calendar focus on the theme of God as the Creator and Author of Life, both the temporal life and the eternal life that He prepares for us in heaven. At Christmas, we reflect on God's gift of life, not only the gift that He gave each of us when He created us, but also the gift of His son Jesus. The birth of Jesus teaches us a profound lesson on the mystery of God's love.
As we prepare to celebrate the solemn feast of Easter, we are reminded once again of God's intense and everlasting love for each human person. Not only did God send us His only son, but He also allowed His son to suffer and die for our sakes. Jesus' death on the cross was a necessary sacrifice, payment for the debt of our sins, so that we could join our Heavenly Father in paradise.
As Lent comes to a close, here are some ideas for ways to celebrate the Easter Triduum:
1.   On Holy Thursday, remind your students of our duty to serve others. Just as Jesus knelt and washed the feet of his Apostles, we are also called to embrace humility and serve those around us. Make a list of the Corporal Works of Mercy and the Spiritual Works of Mercy. Ask your students which works of mercy they can start doing right now.
2.   After Holy Thursday Mass, we have an opportunity for adoration of the Blessed Sacrament—spending an hour with Jesus as He begins the road to Calvary. As members of the human family, it is up to us to make sure that no one in our community is left alone during a time of difficulty. Ask your students what they can do to reach out to lonely people—whether that is an elderly neighbor or a quiet or ostracized classmate.
3.   On Good Friday spend some time in silence, particularly in the afternoon as you reflect on Christ's passion and death on the cross. Remind your students that in order to build a culture of life, we must first turn to God as our support. Without His help, we can do nothing.
4.   On Holy Saturday, prepare a basket of food to have blessed at your parish. This Eastern European tradition uses food as symbols to teach about Christ and the significance of Easter. Because food helps sustain us, taking our Easter meal to church for a blessing helps us recognize that our lives are a gift from God and that He will take care of our every need. Learn more about how you can participate in this beautiful Catholic tradition here. If your parish does not have an Easter Basket Blessing on Holy Saturday morning, try to find a Catholic church with Eastern European heritage in your area. Be sure to include a butter lamb and dyed Easter eggs in your basket.
5.   Celebrate Easter Sunday with food that reminds you of the Resurrection and the gift of life that Christ gave to us through His sacrifice.
Looking for more ideas on how to celebrate Easter and the gospel of life? Check out our Easter Celebration Ideas Pinterest board.
For Christians, Easter is a special time to reflect on God's many gifts to the human family—most importantly, the gift of life. We are humbled and amazed that the intense love of our Creator would cause Him to send His only son among us to die for our sins and transgressions. The Feast of the Resurrection gives us hope for a future beyond the temporal world and should prompt us to look at our own lives and how we are spreading the gospel of life to our friends, neighbors, and communities.
What are you doing to make this Holy Week a celebration of the gospel of life?
Laura Kizior is a content developer for American Life League's Culture of Life Studies Program, which stresses the culture of life as an integral part of every academic discipline. CLSP is dedicated to helping students become effective communicators of the pro-life message. Sign up for our e-mail newsletter to see how we can help you foster a culture of life at home and in school.