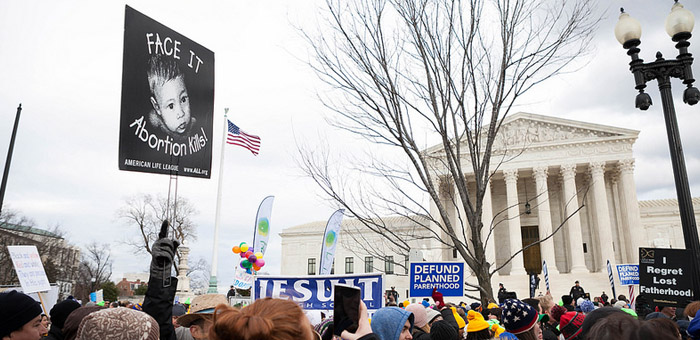 Headlines, Politicians, and Babies
By Judie Brown
The 44th annual March for Life is now in the history books. Complete with live-streaming video footage of the masses and every type of media coverage you can imagine, it was quite an event!
However, the most thought-provoking comment of all came from a fellow pro-life American who said that crowd counts are of little consequence when we consider the truth that nearly 60 million children have been killed by surgical abortion alone in the last 45 years. But then again, such estimates are like crowd counts—they are just numbers.
What our struggle is really about is individual human beings, each of whom is or was an unrepeatable miracle.
It was quite astounding to listen to President Trump explain to ABC's David Muir that, while he understood that the Women's March following on the heels of his inauguration drew some large crowds, it is equally true that the March for Life would draw large crowds. However, unlike the women's event, Trump said, the press would not cover the March for Life.
And Trump's prediction came true. The media is strangely silent when it comes to the life of a precious baby. Even more interesting than the president's admonition was that, when other media sources reported on this, it was noted that the ABC News transcript of that interview left out all reference to Trump's comments on the poor media coverage of pro-life events.
Along with this commentary and the reporting, we encounter a strange sort of discrimination that appears to be at the root of much of the media's attitude toward the voiceless persons we speak for every day of the year. After the March, the New York Times noted that the March drew "thousands." The Daily Caller reported on media bias as well, telling readers:
"Anti-Abortion Groups Hold Triumphant Rally After Obama Years" was how the Associated Press titled its coverage of the march, later referring to the pro-life marchers as a "politically ascendant anti-abortion movement."
"Vice President Mike Pence told the crowd at the March for Life that anti-abortion policies were a top priority of the new administration," was how the AP story described Pence's speech, which referred to "pro-life majorities" in the House and Senate. NPR described Pence's reference to "pro-life majorities" as "emphasizing the electoral victories of anti-abortion candidates."
All of this reporting—whether kind or unkind to "marchers" and the event itself—failed to tell of the plight of the babies, even though their deaths by abortion are the reason that hundreds of thousands pour into the capital on a single day. Memorializing these babies and showing the solidarity with these and all preborn children are the real reasons that we come, but nary a word about this sees the light of day.
I suggest that the reasons behind this media bias are fear of the truth, fear of the facts about who dies during an abortion, and fear that if honesty prevailed across all networks and media outlets, abortion would immediately be rejected in all quarters. For in truth, once someone sees the results of abortion and understands WHO lives in his mother during all nine months of pregnancy, one's view of abortion is changed forever.
Oh yes, there are cold-hearted, callous people in the world who really couldn't care less whether a preborn baby lives or dies, but there are far more who just never really thought about it and who might think about it if the mainstream media truly gave life a chance to be seen prior to birth.
Joe Scheidler, founder of Pro-Life Action League, said it best during an interview when he told Barbara Hollingsworth that we are raising awareness when we make the scientific facts about human development prior to birth more well known. Education is of monumental importance.
Yet ultimately the truth stands with or without media coverage. A preborn baby's life should never hinge on a politician or a headline; speaking for that child does not require a vote or a news story. It only requires our unselfish love day in and day out.
_________________________________________________________
Join American Life League as we defend the truth by teaching it with our Culture of Life Studies Program, by showing others how to live it with our Life Defenders program, and when arming others for battle with our Stop Planned Parenthood International program.