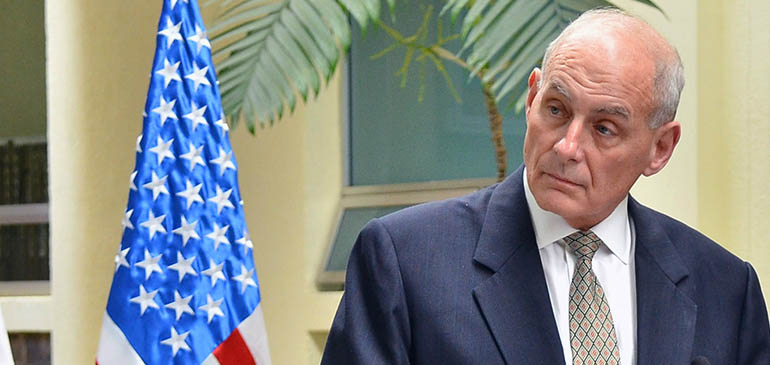 General Kelly: The Bane of Planned Parenthood's Existence
By Judie Brown
Who knew that a retired four-star general whose son was killed in Afghanistan could become such a pain in Planned Parenthood's neck?
It appears that Marine general John Kelly, the current White House chief of staff, has become the flashpoint in Planned Parenthood Action Fund's most recent railing against anyone who has the audacity to tell the truth.
Last week PPAF accused the general of "attacking and undermining black women." In a tweet, PPAF sounded off because General Kelly took issue with the manner in which African-American congresswoman Frederica Wilson handled her remarks after President Trump telephoned the grieving widow of Sergeant La David Johnson, a soldier killed in Niger.
In what can only be described as this month's most hypocritical remark, PPAF had the gall to state that it stands with black women!
Please let the record show that Planned Parenthood may be standing with born black women—though that is questionable—but it surely does not stand with preborn black women! Why else would 79 percent of its abortion facilities be located in minority neighborhoods?
Planned Parenthood may be standing with born black women—though that is questionable—but it surely does not stand with preborn black women!

— Judie Brown (@Judie_Brown) October 24, 2017
Then there is the matter of Planned Parenthood's view of mothers. This view alone places the organization at odds with nearly all right-thinking people of every race. We see this in all of its actions. For instance, to help celebrate the cherished event of Mother's Day, PP has marketed Mother's Day cards with quotes such as "I would like [my daughter] to use family planning . . . to complete her education and have a good life" and "I'm grateful for Roe v. Wade, I'm grateful for birth control . . . I'm thankful for the women before me who've fought for and defended the right to be a mom by choice." In other words, if an expectant mom does not choose to be pregnant, her right to kill her baby is merely "the right to be a mom by choice."
I think actor James Woods said it best in his 2017 Mother's Day tweet:
Hard to say "I love you, Mom" from a medical waste dumpster… #DefundPP https://t.co/kYjMHn5yPV

— James Woods (@RealJamesWoods) May 15, 2017
Exactly!
Planned Parenthood's perspective on African-American mothers and their children is far from being one of standing in solidarity with them. Day Gardner, president of the National Black Pro-Life Union, agrees and warned: "Black America must wake up and stand up to this racist organization that purposefully plants abortion facilities firmly in black and minority neighborhoods and urban communities, sometimes, right next door to schools."
We agree completely. It is a fact that Planned Parenthood Action Fund decries what it views as "racist" while practicing racism daily in neighborhoods across our nation. We have shown this clearly in our American Life League Culture of Life Studies Program video Who Was the Real Margaret Sanger?
This is why we cannot lose sight of the truth that only through education and one-on-one conversation with our minority brothers and sisters can we end Planned Parenthood's reign of terror.
We thank General Kelly and all those brave men and women who have fought and died to keep us free in this nation. And we commit to making sure that not only General John Kelly, but every single one of us remains the bane of Planned Parenthood's existence!
________________________________________________________
Combat the evil with truth! Join American Life League in defiance of the culture of our day—this culture of death. Through your actions and words, become a part of our movement to build a culture of life. Pray, be informed, and educate others.
For pro-life information, go to all.org.
For pro-life educational tools, visit cultureoflifestudies.com.
To see documented proof of Planned Parenthood's debauchery and to learn ways to stop its spread, go to stopp.org.
To join with youth outreach for a pro-life generation, visit lifedefender.org.
image: Minex Guatemala via Flickr | CC-2.0