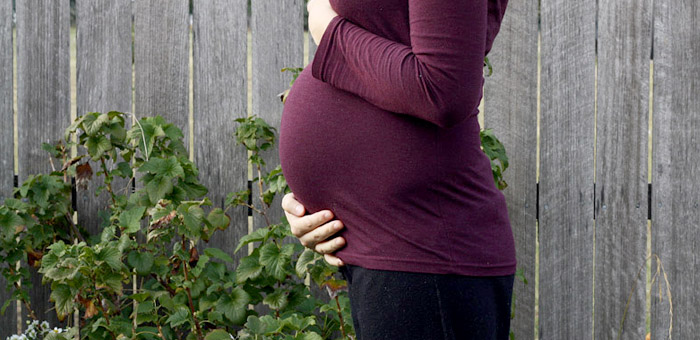 Christmas Miracles: A Year in the Life of One Young Mother
In December 2009, a young woman named Joanna Hall joined an estimated 750,000 American teenagers who became pregnant that year. Nearly a third of these pregnancies ended in abortion.1 Unlike many of these young girls, she chose life for her baby.
What made Joanna's case different? Who were the people who mattered in the fight for life? This is the story of one teen girl in crisis, one baby, and the network of pro-life heroes who allowed God to speak through them.
Just out of high school, working part-time at a pizza place, and uninsured, Joanna didn't plan on becoming pregnant. Although she told her mother right away, she felt adrift and in shock. Her boyfriend, Chris, was 17 and unemployed. "Planned Parenthood was all we'd ever heard about. He brought up abortion, but I didn't want to abort. He was scared—we both were—and neither of us was ready. He was really indifferent. I don't think he realized this was the real deal," she recalled.
Joanna and Chris decided to visit Birthright of Walla Walla, Washington, the local affiliate of Birthright International (a nonprofit organization) for the pregnancy test required for Joanna's enrollment in state health insurance. Completely donor-funded, Birthright assists young women facing crisis pregnancies by offering life-affirming choices and support. The supporters who give their time and money to Birthright rarely hear about the results of the confidential counseling given to young mothers, but trust that their efforts are achieving positive results.
A team effort
More than people in any other age group, teens worry about their peers' opinions. The shame and judgment a teen girl may feel during a crisis pregnancy can lead her to make a decision she will regret the rest of her life, but receiving the right support can make all the difference.
At Birthright, Joanna met with counselor Terri Neal, who had known Joanna since she was a little girl. "Because she was a family friend, I was terrified the news would get around fast. It was really the opposite, and after I got over the awkwardness, I was and still am so glad that it was Terri there that day," Joanna said. "She was comforting and supporting, and told me that God had put this little one here for a reason. The best thing was that she didn't pressure me to have an abortion because I was a pregnant teenager, and she didn't make me feel like an awful person. . . . I was God's daughter. . . . She helped me get over other people's opinions and be grateful for this gift."
"I can't pass judgment on the quality of life," said Donna Wujek, director of Birthright of Walla Walla. "The volunteers, the members of the board—we all have a deep commitment to showing that these lives have a value beyond what society would tell us they have."
The result of a crisis pregnancy herself, Donna has a deeply emotional connection to these support services: "I was adopted by the Children's Home of Society of Washington after being born in a home for unwed mothers."
"Every volunteer at Birthright must read the founder's book that states the goals, and they must agree with them," she continued. "Confidentiality is key in our ability to serve women. I'm so blessed to have a great core of volunteers who have stuck with us through the years. I wish I had more. I wish we could be open every day, all day. But we try to vary our hours so that everyone has a chance to come in, or they can make an appointment after hours and we'll be here."
Donna is grateful for her staff's flexibility: "We have all filled so many different roles. I've been a counselor, on the board, and now director. I know the others feel what I feel: that wherever God wants me to be, whatever He wants me to do, that's what I want, too. We don't usually know what happens after they come here. We trust that God is using us for the time that the women are here for a pregnancy test."
Terri remembers Joanna's visit this way: "She had the support of family, so she was in a good mental place. So many of the women we get in don't have insurance, so that is a huge deal when you're looking at facing an unplanned pregnancy."
Medical referrals are an important part of Birthright's services. "She [Terri] asked me if I had a doctor and I said no. She gave me a referral to Dr. Wujek or any of his partners," said Joanna. Dr. Joseph Wujek, an obstetrician-gynecologist, is Donna's husband. He understands that when a woman comes in with a referral from Birthright, this pregnancy might be a little different. In his practice, every woman is given the best of care, but a woman in crisis needs more support, more encouragement, and more time.
"After about three months, Terri called and asked if I'd been in to the doctor yet. I said I hadn't. Her call got me started on the prenatal visits and taking care of myself in general," Joanna recalled. "We encourage the volunteers to follow up, if they can. Sometimes it's not possible and the women don't want to be contacted," Donna explained.
Any parent can tell you that there are times when children are more receptive to the advice of other people. Joanna's mother, Susan Spears, acknowledged, "I felt like I was saying the wrong things. I was trying to process the information and be supportive, but I was scared for her. I kept asking her if she'd gone for a checkup yet, and she kept saying she would. But it was a while before she did. Terri gave her that gentle push."
"At our prenatal visit, Dr. Wujek encouraged me to go back to school. I loved hearing the baby's heartbeat. I felt like he cared about me as a person and never talked over me when I asked him a question," Joanna said.
The second Christmas miracle
On September 2, 2010, Ella Marie was born after a difficult and traumatic labor. An emergency Cesarean section was performed after the baby's heart rate dropped dramatically during the final stages of labor. Dr. Wujek, his partner Dr. Daniel Kaminsky, and Dr. Joseph Wren, a pediatrician, helped bring little Ella safely into the world. Her shock of dark hair and deep blue eyes captivated Joanna and her mother, a nurse who was present in the operating room.
Meanwhile, Chris waited upstairs to be the first to hold the baby. "She's the best thing that's ever happened to me!" he exclaimed. "We would go through everything again, from all the criticism to the labor, just for this little girl. There's no sacrifice too big for such a miracle," Joanna declared. Christmas that year was filled with the pure joy that a new life brings.
Although Chris and Joanna did not stay together as a couple, they both love Ella very much and believe she is truly a gift from God. Joanna married a wonderful man named Matthew Maedche in February 2013, and he has embraced parenting Ella as if she were his own.
Making God's vision a reality
The culture of death wants us to see only what appears on the outside: an unwed teen mother, an unplanned pregnancy, a future ruined, a burden on the state, and the potential for a life of poverty or abuse. But with God's eyes, we can see the beauty of this little life. Our words can have a positive impact. Our time and our resources can support the most fragile of circumstances. We can build a safety net for those our society would say are not even worth the effort.
Ella's grandmother wishes she could tell every person along the way what a difference the support from Birthright made. "I feel overwhelming gratitude. All of these people stepped out, and allowed God to speak and work through them. Without judging, they provide for girls like my daughter. I can never thank them enough."
Virginia Carmichael is an award-nominated writer of Christian fiction and a homeschooling mom of six young children who rarely wear shoes. She holds degrees in linguistics and religious studies from the University of Oregon, and lives with her habanero-eating husband, Crusberto, who is her polar opposite in all things except faith. Virginia thanks God for the laughter and abundance of hugs that fill her day as she plots her next book. She also writes under the pen name of Mary Jane Hathaway and loves to meet readers on her Facebook page forPride, Prejudice, and Cheese Grits.
To learn more about Birthright International, visit Birthright.org or call 416-469-4789.
Birthright's toll-free helpline is 800-550-4900.
_____________________
1U.S. Teenage Pregnancies, Births and Abortions: National and State Trends and Trends by Race and Ethnicity, Guttmacher Institute, 2010, Guttmacher.org.
image: Veronica Foale via Flickr | CC-2.0