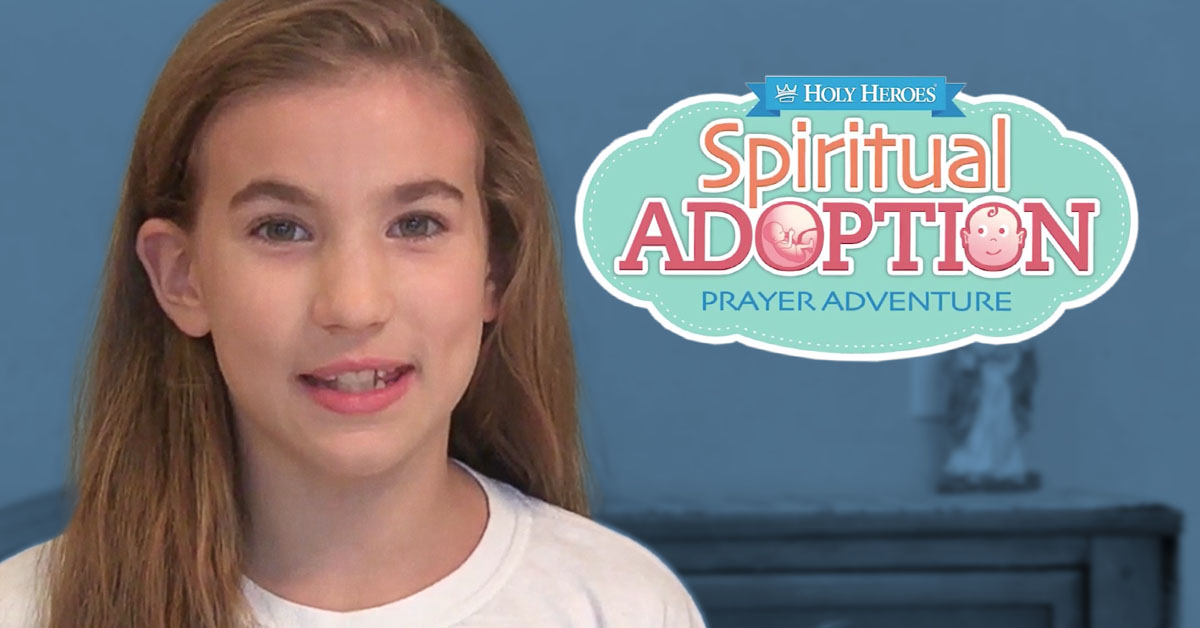 An Adventure You Don't Want to Miss!
By Susan Ciancio
If you are anything like us, you love activities that not only fit into your curriculum, but that engage your students, teach about the sanctity of preborn babies, bring families closer together, and can be done at your leisure! Sounds perfect, doesn't it?
Our friends at Holy Heroes have created a spiritual adoption program that fits the bill! It is perfect for elementary-age students (and large families who want an activity that the whole family can enjoy). We have teamed up with them to help you learn more about this program and about how you can use it to help build a culture of life in your family and community.
What is spiritual adoption?
After the devastating Roe v. Wade Supreme Court decision decriminalizing abortion, Archbishop Fulton J. Sheen felt the world needed to pray for these babies who were in danger of being aborted, so he wrote a simple prayer that even small children can memorize quickly. The prayer says:
Jesus, Mary, and Joseph, I love you very much. I beg you to spare the life of the unborn baby [name your "adopted" baby] whom I have spiritually adopted, who is in danger of abortion. Amen.
For over 40 years, people have been praying this prayer. Until we meet Christ face-to-face, we will never know how many babies have been saved, but we can rest assured that the number will be staggering.
The Holy Hero Adventure
In 2007, Ken Davison and his wife, Kerri, founded Holy Heroes to help bring the message of Christ to children. As the oldest of the Davison children, Virginia grew up immersed in activities that helped her and her siblings live a culture of life. The family prayed in front of abortion clinics, attended the March for Life, donated to pregnancy resource centers, and spiritually adopted babies. So when Ken, who has a special devotion to Archbishop Sheen, asked Virginia to create a "a free, easy-to-use, age-appropriate program in which children would use Sheen's prayer to 'adopt' an unborn child for 9 months and pray for the child, while also learning about the development of their adopted baby growing in the mother's womb," she jumped at the chance. We recently had the pleasure of getting to know Virginia and learning all about this adventure firsthand.
Virginia and her college roommate took Ken's idea and ran with it. They created the Spiritual Adoption Prayer Adventure—first as a free online program, and more recently as an incredible hands-on activity book and DVD which you can use completely offline both in the home and in the classroom. The activity book is full of questions and answers where young children can not only learn about themselves before they were born, but can read Bible stories, color biblical images, and challenge their comprehension and detective skills with crossword puzzles, cryptograms, and even code breakers! 
Each of the 20 weeks begins a new adventure and covers a two-week period (to include all 40 weeks of pregnancy), so you have plenty of time to work on each page. This exciting program takes students on both a personal and spiritual journey as they answer questions such as "How were you growing and developing when you were 6 weeks old in your mother's womb?" and "What do you think you should do to discover God's plan for you?" In addition, children learn about the Annunciation, the Visitation, and about the Baptism of our Lord. Your child will ask you questions about his development in the womb, about family traditions, and about things that were happening in your family's life as you prepared for his birth. After every journal entry, your child gets to do a fun activity based on what he learned. When he's done, he will have an incredibly sweet keepsake that's all about him! What a wonderful way to show him that all babies matter, that he mattered before he was born, and that he is a valued member of your family!
Why teach pro-life truths to small children?
As Catholics, we understand the importance of fostering a culture of life within our families. Children today are exposed to immoral behavior from all fronts on a regular basis. If we do not build a strong foundation when children are young, we risk losing them as they grow older and become more and more influenced by TV, social media, and their peers.
As Virginia told us, "The belief that every person has inherent dignity and value from his very beginning and that every life is precious has to be instilled in children's hearts, as well as in their minds—and the sooner the better."
Because we at the CLSP and our friends at Holy Heroes respect the fact that children should not hear the gruesome details of abortion while they are still young, we strive to teach them respect for all people—born and preborn. As Virginia stated, "There's no need to tell very young children about the harsh realities of abortion. Instead we can simply teach them about fetal development, about God's love and plan for every person, and that every person is deserving of life regardless of their developmental stage, level of ability, sex, race, and so on."
She continues, "Parents can choose to use this program as a springboard to discuss age-appropriate issues with their children. We purposefully made this program easy on moms (and dads!) because we know how busy life can get!"
It is never too soon to help your children learn that they were once a preborn baby and that all babies—no matter how small—deserve our protection and love. As they grow older and learn the sad reality of abortion, they will instinctively understand that it is evil. Virginia agrees and concludes, "Parents . . . need to teach children that this issue is truly a life or death issue and that it is the greatest moral evil of our time." The Spiritual Adoption Prayer Adventure provides this foundation while giving kids an opportunity to have fun and learn.
As summer winds down and you begin to prepare for this coming school year, consider adding this amazing adventure to your home or classroom. It's a natural fit for any educational environment serious about helping prepare young children to do their part in building a culture that respects all human beings from the moment of creation!
Sidebar
Virginia Davison Madden is the oldest child of the "Holy Heroes Family." She has written scripts for Holy Heroes' best-selling Glory Stories audio, dramatized saint stories, cocreated the free online Spiritual Adoption Prayer Adventure, and is cowriting and directing Holy Heroes' first Inside the Sacraments video. She currently contributes to the Holy Heroes blog. In addition to her continued work for Holy Heroes, Virginia works part-time as a therapist at a Catholic counseling agency in Bethesda, Maryland. She resides in Northern Virginia with her husband and first child. To learn more about Holy Heroes, visit its website!
---
This article has been reprinted with permission and can be found at cultureoflifestudies.com/blog/an-adventure-you-dont-want-to-miss/#.XSS_w-hKjIV.