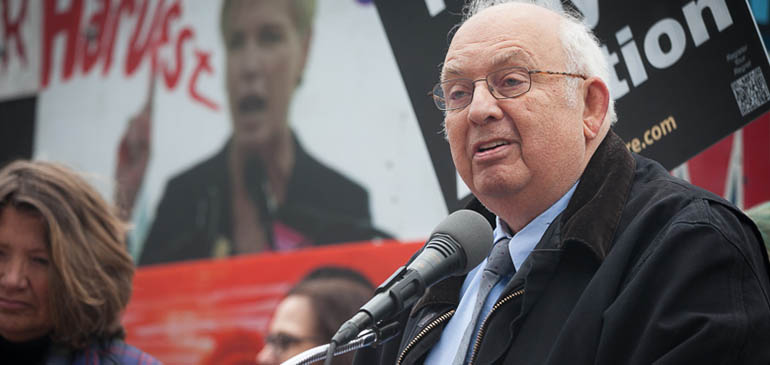 A Visit with Heroes in the Fight against Planned Parenthood
By Jim Sedlak
American Life League's STOPP International program began in 1985 in Dutchess County, New York. STOPP International began as a small independent organization fighting the local Planned Parenthood affiliate—Planned Parenthood of Dutchess-Ulster (which later merged with Planned Parenthood of Orange-Sullivan and is now known as Planned Parenthood Mid-Hudson Valley). At that time, Planned Parenthood operated 13 medical facilities in the four adjacent counties.
STOPP was formed by four individuals (Helen Westover, Bob Cassara, Dotty Madrigrano, and Jim Sedlak) and quickly became involved in successful efforts against Planned Parenthood across New York and surrounding states. The original organization split into two in 1990, with Mid-Hudson STOPP continuing the local fight and STOPP taking on the national effort. Then, in 1995, STOPP International was created, as our outreach included working against Planned Parenthood in seven countries on three continents. Finally, in 1998, STOPP International was merged into American Life League and has operated as a program of ALL since then.
I give you all of this background information as a way of introducing you to a wonderful trip this past weekend where I had the honor of delivering a talk at the Orange County (NY) Right to Life annual banquet. It is not an exaggeration to say that I was in the presence of heroes in the battle against Planned Parenthood.
We often give you the national numbers. Planned Parenthood Federation of America has gone from 791 facilities in 1985 (the year we started) to 610 facilities today. That's a 23 percent decline. In the Mid-Hudson Valley, over the same years, Planned Parenthood has gone from 13 facilities to just five! That's a whopping 61 percent drop! In addition, of the five remaining facilities, one is only open 15 hours a week and another is open just 33 hours a week. Clearly, Planned Parenthood continues to lose customers and is being forced to cut back on its hours and its number of locations.
Two of the remaining facilities are located in Orange County, and it was the Right to Life group in that county that I addressed. With all the years the fight against Planned Parenthood has been going on and with all the success the group has had, it would not have been surprising if attendance at the annual banquet was light. But, as the banquet started—at 2:00 p.m. on a Sunday afternoon—over 100 active and motivated individuals piled into the room. The OCRTL officers (Wendy Wood, Joe Coyle, Ella Mae Hedgepeth, and Christine Tighe) were joined by numerous clergy (including Father Antonio Maria Diez de Medina, C.F.R.; Reverend Bill Banuchi; Catholic bishop Dominick Lagonegro; and members of the Goshen Christian Reformed and other churches) and numerous additional pro-lifers, including an entire table of high school students.
The atmosphere was electric. Prayer and song filled the room as those in attendance anxiously waited to learn even more about the national fight against Planned Parenthood. Attendees soaked up all the information, including two facts that elicited audible responses.
The first response came in the form of gasps when I explained that, in 1996, the United States Congress passed, and President Clinton signed, the Communications Decency Act—an act that would have banned pornography on the Internet in the United States. It was Planned Parenthood and the ACLU that went to court to get the act declared unconstitutional (Reno v. ACLU), so it is not an exaggeration to say that Planned Parenthood bears major responsibility for the devastation that Internet pornography has ravaged on our country.
The second response was a loud round of applause when I pointed out that, in 2007, one member of the House of Representatives from Indiana became the first congressman in history to introduce an amendment to a congressional spending bill that forbade the distribution of any government money to Planned Parenthood, by name. The amendment did not pass, but the congressman continued to push for its passage for many years. That congressman was Representative Mike Pence—the current vice president of the United States!
After the talk, many attendees visited with me about the continuing local fight, and some told me that they credit their success to the implementation of ALL's Bringing Jesus to Planned Parenthood through Mary Campaign.
As I travel the country, I am continually recharged by the unsung heroes I meet in every state. On this beautiful Sunday afternoon, I felt honored to stand in the presence of all the members of the Orange County Right to Life in Middletown, NY. May God continue to bless all your efforts.
Jim Sedlak is executive director of American Life League, founder of STOPP International, and host of a weekly talk show on the Radio Maria Network. He has been successfully fighting Planned Parenthood since 1985.